E-TAX INVOICE & E-RECEIPT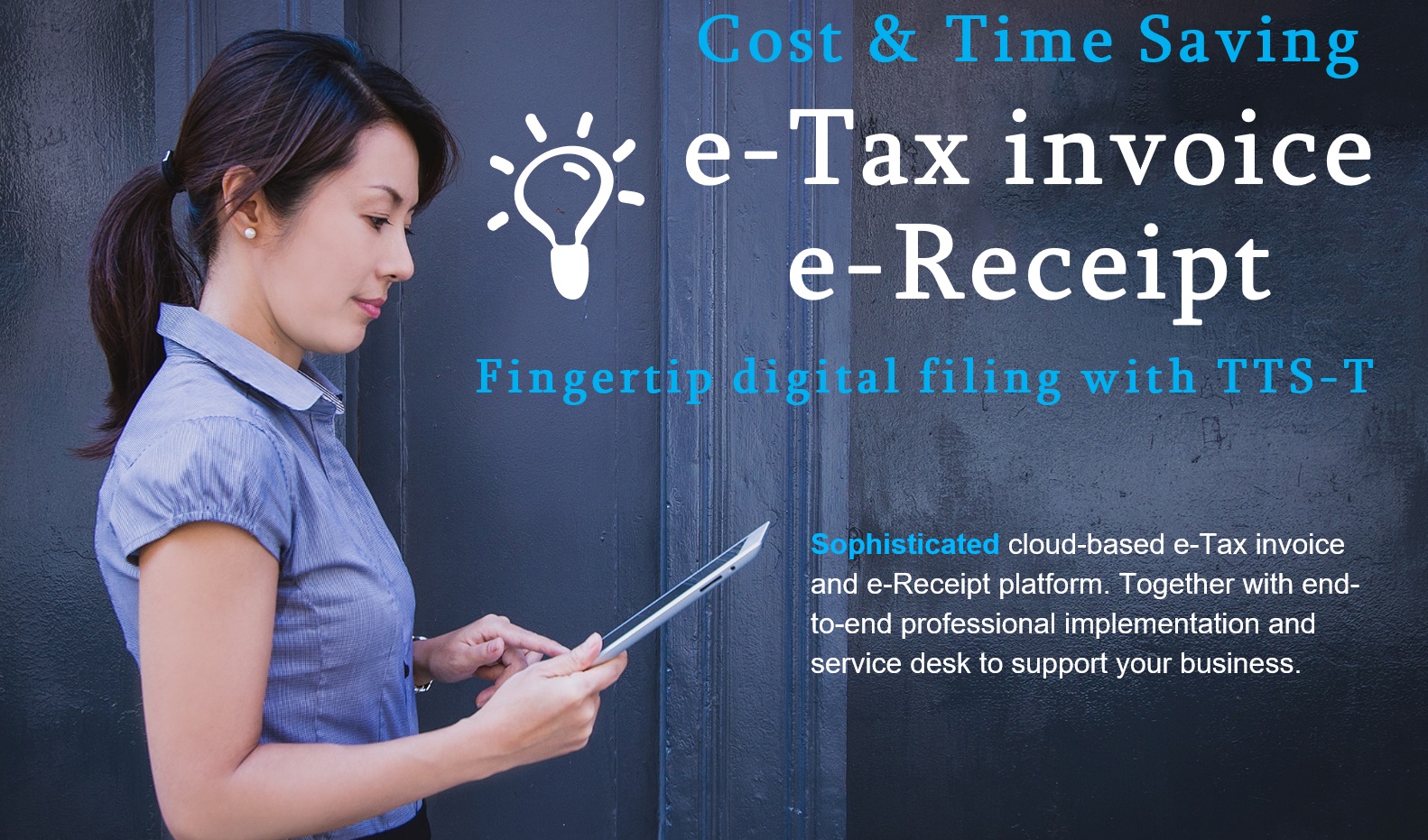 "Is your organization ready for e-Tax Invoice and e-Receipts?"
The Revenue Department in Thailand ("RD") has had a policy of supporting the preparation and delivery of electronic tax invoices ("e-tax invoices") or electronic receipts ("e-receipts") to support electronic transactions in the private sector and to increase the efficiency of electronic services ("e-services") of the government.
政府の電子サービス「eサービス」の一貫として、2017年6月19日にはタイ歳入局より (Revenue Department – "RD")、⺠間部⾨での電子取引をサポートするために、タックス・インボイスの電子化 (e-Tax Invoices) および領収書の電子化 (e-Receipts) の準備、提出、保管に関する規定案が公表されました。
With this announcement, private sector can gain benefit by,

Reduce redundancy and operational procedures
Saves time and money related to delivering documents
Allow a business to use the information for further processing immediately
Saves space and document storage costs
Is convenient and reduces the time needed to search for

documents.
この発表により、⺠間部⾨は以下のようなメリットを享受することができます。

余剰労働と運用手順の削減
請求書等ドキュメントの配送に関連する時間とお金の節約
電子化により情報をビジネスへの有効活用が可能となる
ドキュメントにまつわる保管スペースとコストの節約
ドキュメントの検索や管理に費やす時間を短縮し利便性が向上
Solution
Cost saving from paperless
operation and process

Saving time human workload defectfrom manual operation, delivery document filing.

Easily accessible at anywhere and anytime

Searching for documents becomes more convenient, reliable and time saving.

TTS-T partnered with GetInvoice, certified by Information Security for Data Message Generation, Transfer and Storage Service Providers ขมธอ. 21 2562)

Secured safety standard certified by the government and ISO27001
Our e-Tax System Platform Component
Electronic conversion and approval processing of Tax Invoice and target documents based on the specifications of the Thai government.
タックスインボイス及び対象書類のタイ政府所定の仕様に基づいた電子変換と承認代行処理
Security authentication between the Thai government and business partners, secure transmission and reception by data encryption.
タイ政府・取引先間とのセキュリティ認証、データ暗号化による安全な送受信
e-Tax Invoice and target documents are stored in secure storage, and managed search function by document management system.
タックスインボイス及び対象書類をセキュアストレージにて保管、ドキュメントマネージメントシステムによる管理と検索機能
Workflow operation by electronic approval system.
電子承認システムによるワークフローオペレーション装備
Dashboard function for advanced management of the number of document data and sending / receiving status.
書類データ件数や送受状況を高度に管理することができるダッシュボード機能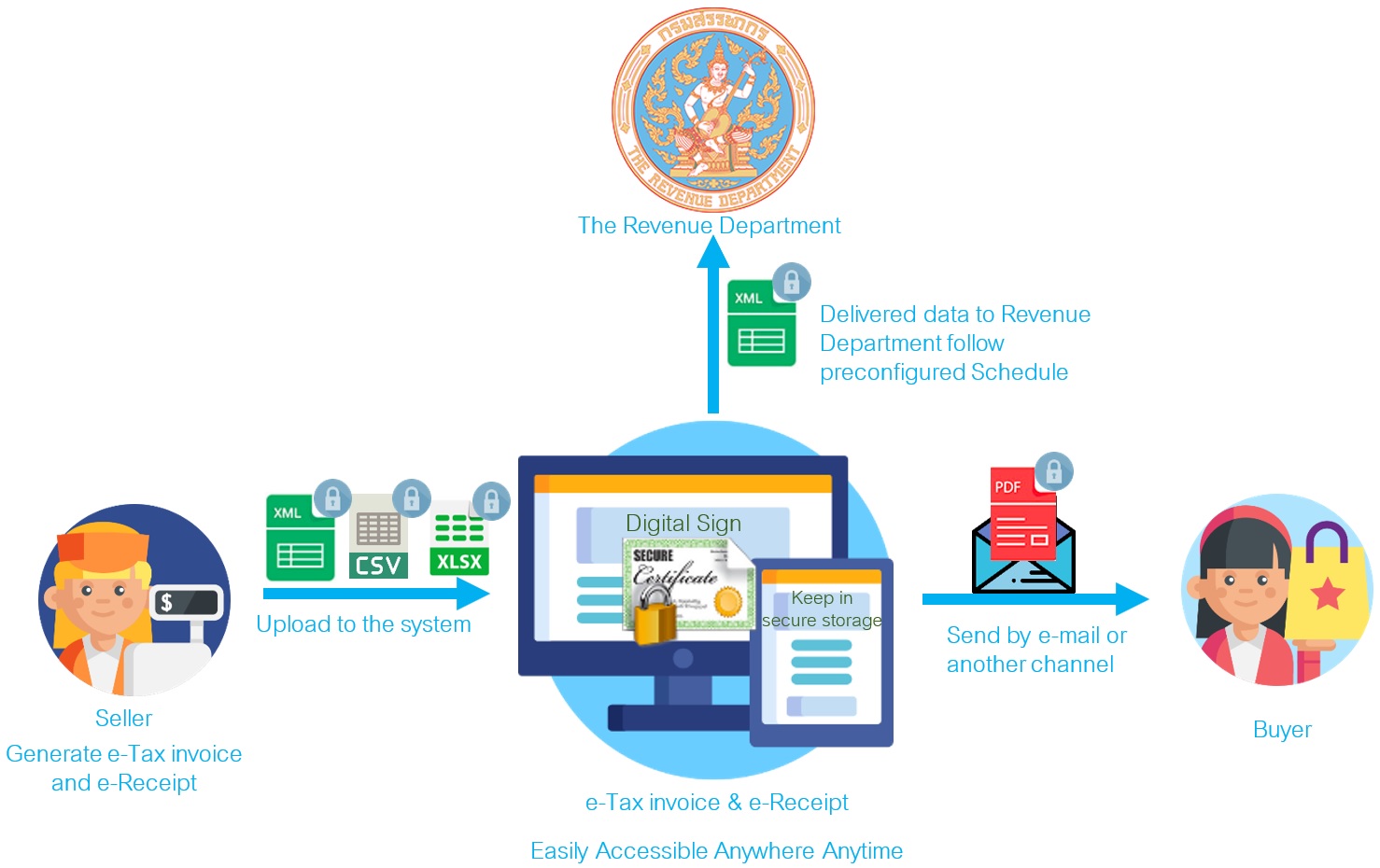 Our service
Acquiring digital certificates from Certification Authority verified by Revenue Department.
Providing PKI Hosting Service by filing digital certificate in standardized Hardware Security Module (HSM) that is fully FIPS 140-2 Level 3 certified.
Coordinating with Revenue Department to register e-Tax invoice and e-Receipt for customer.
Designing document templates (Invoice, Debit Note, Credit Note, etc.) according to customer's requirements.
Validating data structures before submitting documents to Revenue Department.
Producing digital signature on generated document following the standard set by ETDA (ขมธอ. 3-2560 และ ขมธอ. 14-2560)
Sending e-Tax invoice and e-Receipt to buyer.
Automatic submitting data using XML format to the Revenue Department according to set schedule.
Secure safe storage of your electronic receipts and tax invoices follow Revenue Department requirement
After sale service supported by qualified professional.
CONTACT
We are aiming to become the Toyota Group's only IT business production company.
Please feel free to ask us anything about our services.